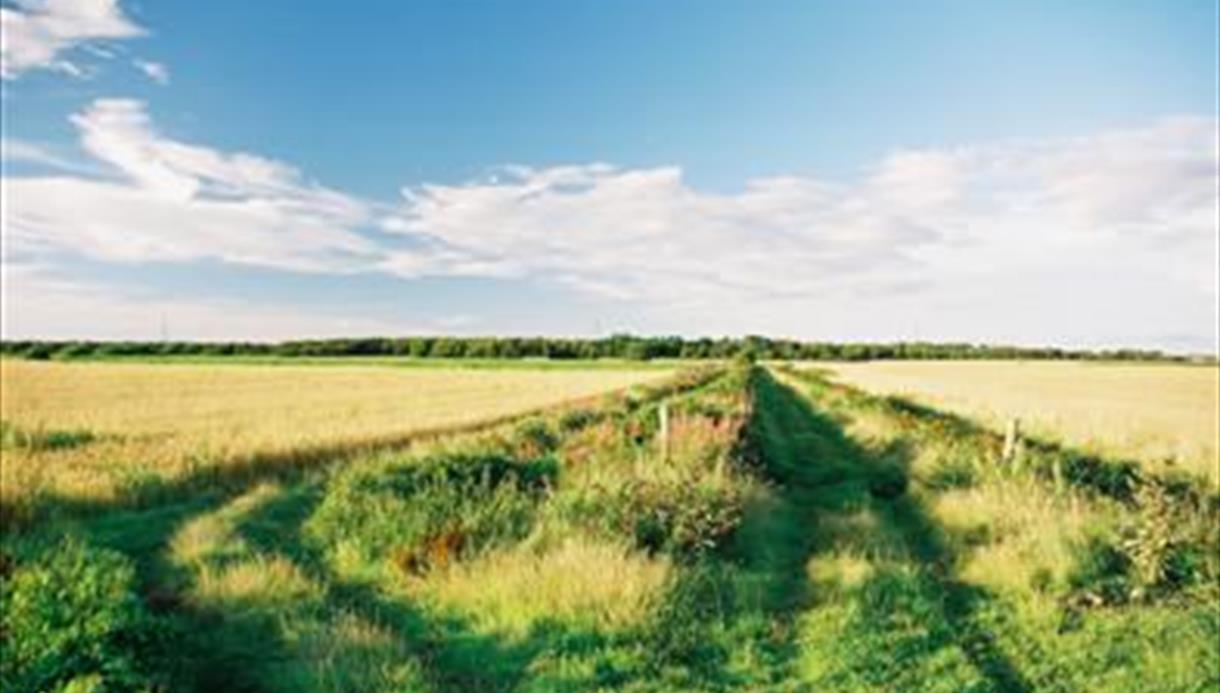 About
The Trans Pennine Trail (TPT) is a 346 km (216 mile) multi-user route from Liverpool to
Hull, with extensions to Southport on the Irish Sea coast and to Hornsea on the shores of the North Sea. The starting point is adjacent to the TPT Seamark on Southport's Promenade and for most of the next 23.2 km (14.5 miles), the route follows the trackbed of the former Cheshire Lines Railway. The old station frontage, complete with clock tower, still survives as the front entrance of Morrisons supermarket.

Elegant Lord Street, with its Victorian ironwork, restored parks and gardens and hundreds of shops and restaurants, is signposted from the promenade and can be accessed via the elegant suspension bridge or Southport's superbly restored Pier with its new pavilion, café, bar and interesting displays on the pier's history and the wildlife of the Ribble Estuary.

Our journey first takes us southwards on the seaward side of the Marine Drive, passing the Queen's Jubilee Nature Trail on the inland side of the road, just one of 17 nature reserves that line Sefton's Natural Coast, all the way from Southport to Liverpool.

A modern wind turbine tops the award winning Eco Visitor Centre, which features all the latest developments in renewable energy and sustainable development. It's adjacent to the 'park and ride' and is well worth visiting having an information point and toilet facilities.

From Weld Road roundabout, the cycleway parallels the busy coastal road, while the footpath turns inland to run alongside the world famous Royal Birkdale Golf Course, venue for many major world championships, including the British Open in 2008.

At Shore Road Ainsdale, a new boardwalk takes you around the Sands Lake Nature Trail and its wealth of bird life and dune flowers.

Take time out to visit the nearby Ainsdale Discovery Centre, headquarters of the Sefton Coast & Countryside Service, with its excellent displays and a wealth of free literature on the unique natural and local history of the coastal dunes. Food, drink and toilet facilities are all available nearby.

Continuing on the coastal trail, we reach the highest sand dune on the coast at Big Balls Hill. Here the Trans Pennine Trail parts company with the Sefton Coastal Path, continuing along the coastal road to reach Woodvale traffic lights after 8 km (5 miles). Carrying straight on down Moor Lane and Plex Moss Lane, with the manicured greens of Formby Hall Golf course on the right, follow the clearly signposted track to rejoin the Cheshire Lines trackbed towards Maghull
and Aintree.

The next 10 km (6 miles) to Green Lane, Maghull, takes us over the flat peatlands of the Lancashire plain, which in winter are visited by thousands of Pink-Footed Geese from Iceland, their 'gaggling' calls attracting attention to long skeins of flying birds.

All of the surrounding area was underwater until local landowners drained it in the 18th and 19th centuries. The monks of Cartmel Priory in Cumbria held the ancient fishing rights and many kinds of fish and waterfowl were harvested for food.

At Sefton Lane, 20 km from the start (12.5 miles), we leave the Cheshire Lines Path to follow Old Racecourse Road, which was the site of the Grand National before it was transferred to Aintree. Following the TPT signs past the water treatment works at Meadway, we pass the newly-planted Jubilee Woods, part of a series of community woodlands on these former landfill sites, to cross the Alt River at Mill Dam bridge and join Chapel Lane towards Brook House Farm.

Carefully crossing the busy Northern Perimeter Road at Netherton, we carry straight on down Chapel Lane, which soon becomes Aldrins Lane, to join the towpath of the Leeds-Liverpool canal at the narrow swing bridge at 22 km (13.75 miles). Heading eastwards along the towpath for the next 1.5 km (0.9 miles), we gain access to Ormskirk Road at the overbridge and continue southwards to finish our journey at Aintree Station on Park Lane. Meanwhile the Trans Pennine Trail continues on as the Liverpool Loop Line Path to reach the shore at Widnes and then heads due east following the Mersey Valley to Warrington and eventually the North Sea.

Trail guides and detailed maps are available from www.transpenninetrail.org.uk. At 33.6 km (21 miles), the Sefton Coastal Path is the second longest route detailed in this guide. Sefton's Natural Coast, as it is now known, is the largest undeveloped dune system in England and stretches all the way from Southport and the Ribble Estuary to Seaforth at the mouth of the River Mersey.

Route distance: 23.2km

Route Key Points:
Southport Pier Pavilion (WC Facilities)
Eco Visitor Centre (WC Facilities)
Royal Birkdale Golf Club
Ainsdale Discovery Centre (WC Facilities)
Highest Sand Dunes: Big Balls Hill
Lancashire Mosslands
Aintree Racecourse
Leeds - Liverpool Canal

TripAdvisor
Map & Directions
Road Directions
By car:
From the South, take the M6 to exit 26; the M58 will take you to Ormskirk and then take the A570 to Southport.
From the North, follow the A59 from Preston (exit 31 from the M6) and then follow the signs to Southport.
Parking:
There is on-road pay and display parking around Southport as well as a number of off-road car parks. There are also two 'park and ride' car parks, one situated on The Esplanade by Splash World and one at Foul Lane off Kew roundabout (A570 from Ormskirk, opens November 2007). Beach parking is also available subject to tide times and heights.

Public Transport Directions
Southport Train Station is less than a 5-10 minute walk away.