Maghull to Aintree Leeds-Liverpool Canal Walk or Cycle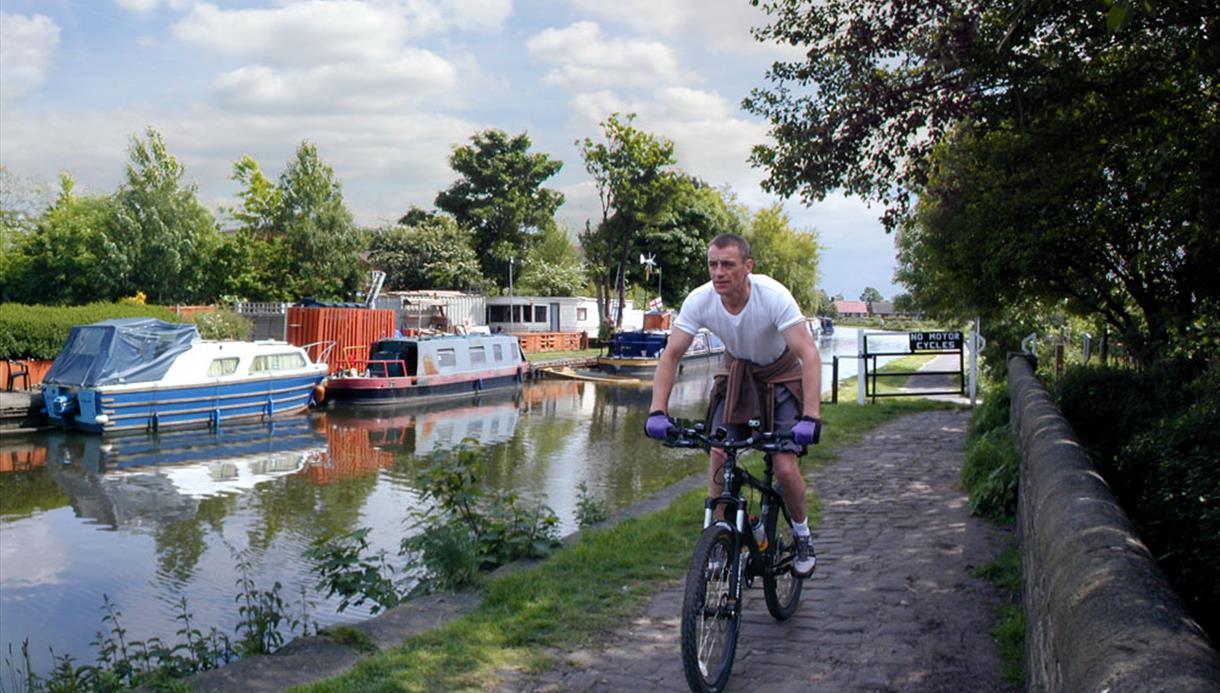 About
This pleasant canal-side walk or cycle ride of some 5.8 km (3.6 miles) is entirely level throughout on the well-surfaced and maintained towpath of the Leeds–Liverpool Canal.

From the green suburbs of Maghull, we travel southeast through farmland and open countryside, under two motorways before our route loops back northwest, alongside one of the world's best known racecourses. Parking is widely available in Maghull and starting from Maghull Station if you wish, will shorten the walk. We start at Green Lane (OS: 373025) to follow the towpath southwards, first under the concrete Westway Bridge and then the older humpback bridge that carries Liverpool Road North.

Passing under the major Northway road bridge, St Andrew's Church is visible on the left, with the earlier 14th century chapel in the churchyard, before we reach the swing bridge at Hall Lane and then Drapers Bridge, where we can connect to Maghull Station.

Beyond the railway bridge and then the underpass of the M58, the landscape takes on a much more rural aspect as Melling Church becomes visible on the low hill to your left. In summer, the reedy sections of the canal here ring with the chattering song of the Reed Warbler, having returned from its amazing 16,000 km (10,000 mile) journey to Southern Africa and back.

At Melling Stone Bridge, we pass under Brewery Lane, then Ledsons Bridge and under the M57 into the open countryside once more. This section is probably the wildest of our route along the canal. To the left is an area of scrub, woodland, pools and grasslands that attracts a wide variety of wildlife, including foxes and hares.

The canal towpath continues as part of a cycle route, crossing high over the River Alt on an embankment. Thanks to the various clean-up campaigns, the Alt is now so clean that it is home to wild Ducks, Kingfisher and Grey Wagtails... and one day soon, even wild Salmon may return. The Leeds–Liverpool Canal itself has an abundance of coarse fish, including some large Pike.

Reaching Handcock's Bridge at Wango Lane, Aintree, the canal curves right to run along the north side of Aintree Racecourse, home of the world famous Grand National. At 4 miles 4 furlongs the race is one of the toughest steeplechases in the world and the first winner was Lottery in 1839. Aintree once had a superb motor racing circuit, one of the best in the world. In 1955, Stirling Moss won his first British Grand Prix here.

The Canal Turn and Valentine's are two well-known fences next to the canal, which is also crossed by the Melling Road, before we reach the main Ormskirk Road, the A59. Turn right to reach Old Roan Station on the embankment some 200 metres distant, where trains to Maghull are frequent.
TripAdvisor
Map & Directions